Process
If you would like a piece of art commissioned or just want to know the process here you go. For ordering select GET ART on the above right navigation bar.
A clear, accurate, reference photo is essential to a successful final product. Dramatic angles or high contrast lighting creates the best paintings. Additional reference photos not shown where used to illustrate the drums and the anthropomorphic pose of the cat.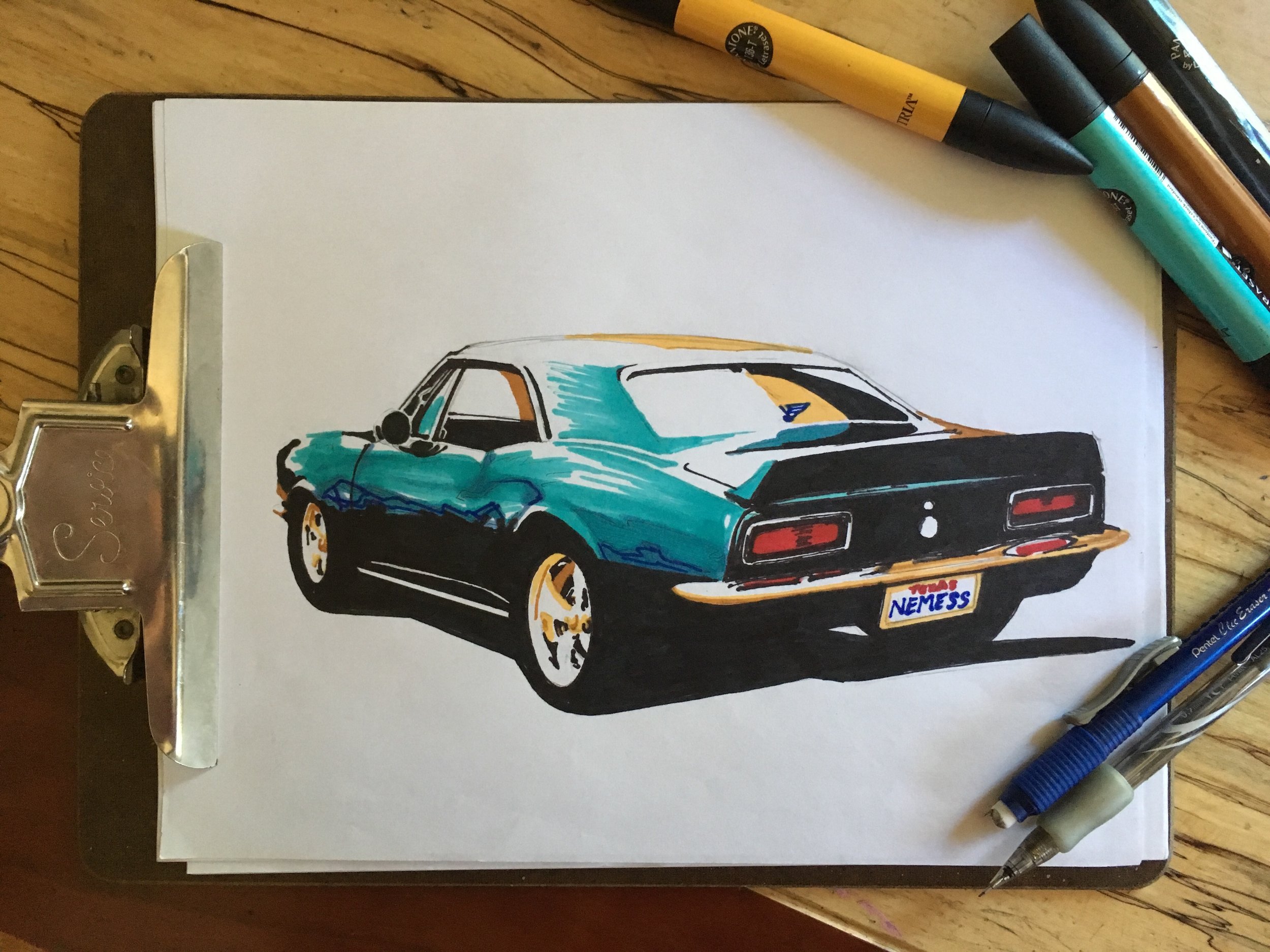 The painting starts with a highly detailed pencil drawing capturing light, shadow, and minute details to assist in conveying information for the painting. Sometimes in the case of this car a marker sketch was created to determine an overexposed photo effect. The drawing is usually shown to the customer for approval before moving on to the painting.
The canvas is initially coated in acrylic paint, several colors and a pattern that will reflect the spray layer on top of it. The acrylic layer helps with the sometimes less than opaque coverage of the spray paint. After the acrylic is completely dry an abstract spray painted pattern using a variety of ready made stencils, household objects, splatters, drips, and other effects are applied. On a small canvas the total time to apply both layers can take as little as five minutes!
After the canvas is completely dry a silhouette using a copy of the drawing as a stencil is applied with spray paint. To add cohesiveness to the background in some cases splatters or multiple colors are added. In the case of some subject matters it literally looks like a blob!
Now for the fun part! A copy of the drawing is transferred to the silhouette, or "blob". The foreground image is then filled in with enamel paint markers using the original drawing and photo references as a guide. Due to only coming in basic colors, light and shadow is intensified to their basic undertones of yellows and blues. As in the case of this singing greyhound.
The enamel is let to dry for 24hrs before the back of the canvas is signed and dated. The gallery style hanging wire is then installed on the back. If it's yours congrats on purchasing a unique piece of Flames art!